THE RANCH
The Ranch is approximately 15,000 acres of private deeded land. It is located in the north eastern corner of the state in NM game units 57 and 58. The property spans two thousand feet in elevation and is set in some of the most unique and scenic land in the west. On the north side of the ranch irrigated alfalfa fields meet the Dry Cimarron River and rise over one thousand feet up forested and rocky canyons to the high prairie grass. From there you can see into the surrounding states on a clear day, or continue up another thousand feet to the tops of extinct volcanic formations. Emery peak is the highest elevation on the ranch, from here you can gaze into the distance at Capulin Volcano National Monument and Sierra Grande Mountain, the largest single base mountain in the country.
This area is home to a history of tribal people, conquistadors, homesteaders and outlaws. Buffalo roamed, treasures were hidden and the wild west unfolded. Come and visit us in this beautiful corner of the "Land of Enchantment"
LODGING
Guests generally stay in the bunk house. It sounds rustic but its not what you might think. The bunkhouse is a private guest house with all the amenities. It includes custom log furniture which provides sleeping room for four, two bathrooms, a kitchenette, high-definition flat screen TV and hi-speed WiFi internet access. If you are looking to rough it we have a 320 sq ft cabin which is very primitive. It is very nicely finished, we get rave reviews on this little home. It is just under 1 mile from the bunkhouse and can be reserved for use during your stay.
Bed and breakfast accommodations can be booked separately from hunting trips and outside of the hunting season.
Please inquire for details.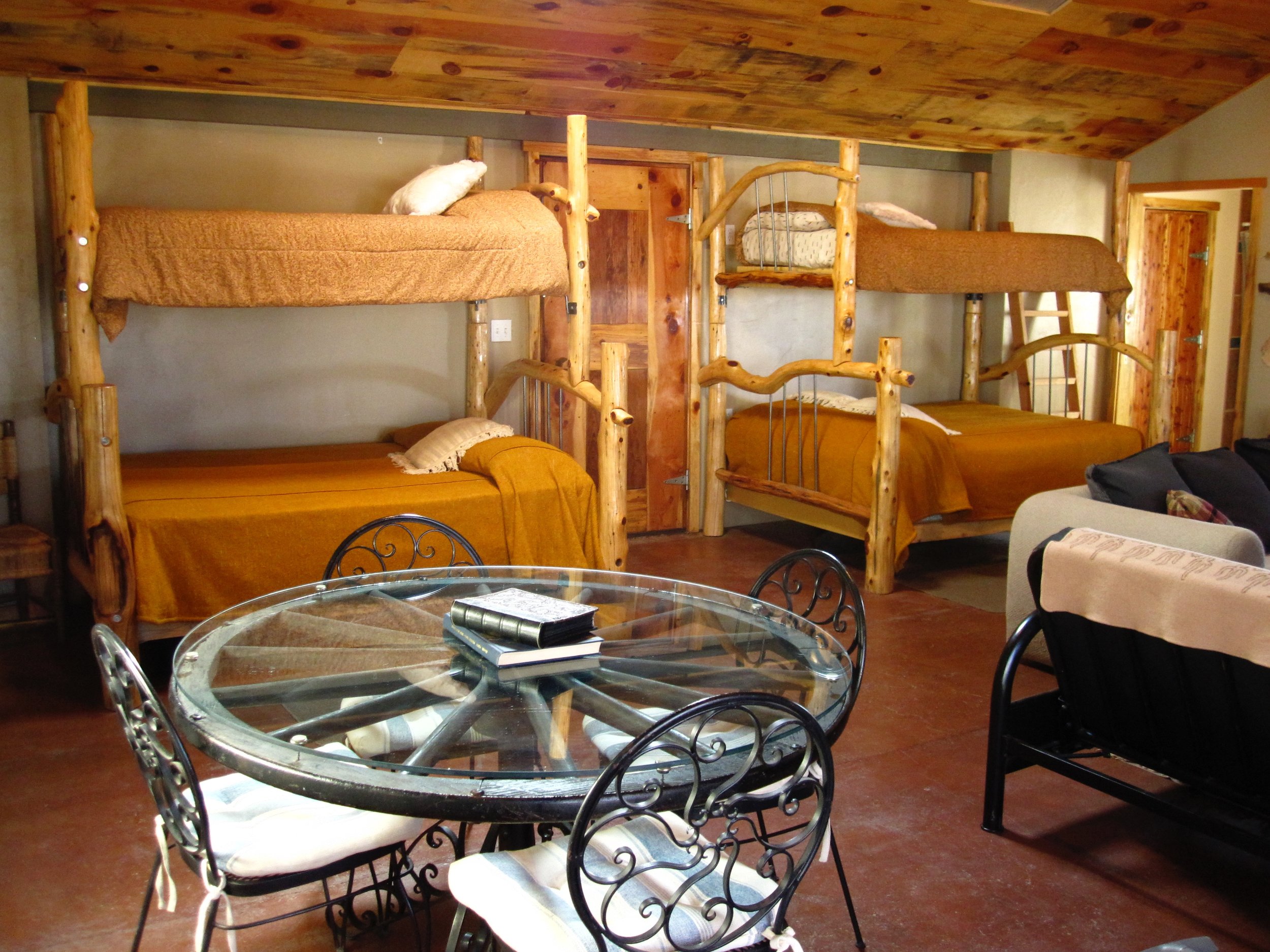 The bunkhouse has all the amenities you would expect in a comfortable bed and breakfast.